An intact skin is the body's first line of defense. In fact, the skin is the largest organ of the body. Hence, it is important to keep the skin healthy inside and out.
A beautiful and healthy skin does not only protect the body, but it also gives you a confidence boost, especially nowadays that people are very much particular with the color and integrity of the skin. (2, 3)
Having skin impurities is something to be worried about. It is even more bothersome if the impurity is on your face. Some people complain of dry patches on face that won't go away. What are the possible reasons for having dry patches on the face? What you can do to get rid of the patches? Keep on reading below to find out. (1, 2)
Photo 1: Dry patches on the mouth area that is mild in nature.
Picture Source: www.skincaretalk.com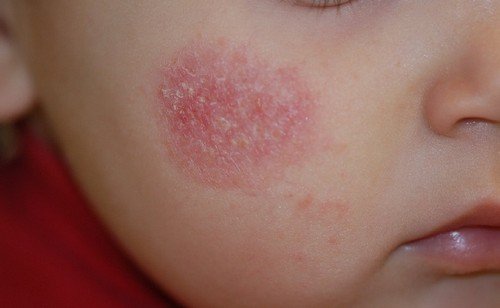 Picture 2: A severe dry patch on the cheek area characterized by flaking and discoloration of the skin.
Photo Source: i0.wp.com
What causes dry red patches on face?
Environmental factors – The changing of the season can significantly affect the integrity of the skin. People with sensitive skin develop dry patches, especially during cold season. During winter, the moisture in the air is very low, which causes the skin to be extremely dry. On the other hand, during summertime, hot temperature can harm the skin leading to the formation of dry patches. The rays of the sun prevents the skin from producing natural oil. (4)
Eczema/Atopic dermatitis – It is characterized by itchy skin patches. In severe cases, a blister appears and the patches release a colored fluid. (2, 3)
Liver spots – They are a flat spots, usually black to brown in color. It is caused by excessive exposure to the sun. You might think that this condition has something to do with the liver, but it does not involve the liver in any way. The spots appear on the face and other areas of the body.
Psoriasis – a dry red skin on face can be associated with a skin condition called psoriasis. Depending on the severity of symptoms, patients may experience red spots, which are painful and itchy. Scaling is also possible, which could lead to cracking or bleeding.
Vitiligo – It is a skin discoloration affecting not just the face but also other parts of the body. It is caused by alteration in the production of melanin. It is common in people with dark complexion. On the positive note, Vitiligo is not a dangerous condition. In fact, it is not contagious at all. However, dry patches on skin

not itchy

can make someone feel embarrassed. Those who have Vitiligo have a low self-esteem. (5, 6, 7)
Other possible causes – The simple things you unconsciously do can actually lead to the development of dry patches on the face such as taking a bath using too cold or too hot water. If you are the type of person who takes a bath frequently, then you are exposing your skin to severe drying. Furthermore, exposing your skin to chlorinated water can make it prone to drying and increases the possibility of having dry patches not just on the face but on other parts of the body. (7, 8)
How to get rid of dry patches on face Dry : Remedies
There are a lot of dry skin patches on face home remedies. You don't necessarily need to immediately visit your skin doctor if you have skin patches. There are dry flaky skin on face home remedies that are tested and proven effective.
These include the following:
Aloe Vera – Thee extracts of Aloe Vera has a moisturizing property. It moisturizes the skin and soothes sun burns. Apply aloe Vera gel directly on your skin paying particular attention to the dry patches on the face. You can also apply the gel on other parts of the body, especially in areas needing enhancement. (9, 10)
Keep your skin hydrated and moisturized – it is important for the skin to be hydrated and moisturized as they are the keys to achieving a healthy skin. Apply hypoallergenic moisturizers and drink plenty of fluids, especially water and natural fruit juices. Be very mindful of what you apply on your skin. As much as possible, you should apply hypoallergenic skin care products.
Be selective of skin care and cosmetic products – Cosmetic and skin care products today contain chemicals, which can be harmful to people with sensitive skin. Make it a habit to use the right product for your skin. To stay on the safe side, you should use mild and fragrant-free cosmetics.
Watch what you eat – If the body is not well nourished, it will show in the skin. In fact, the skin is one of the outside indicators that something is not right in your body. For your skin to be healthy, smooth, and radiant, you should drink plenty of water and eat nutritious foods. Increase your intake of protein rich foods, especially fatty fish like salmon and tuna. Fruits and vegetables good for the skin include cucumbers, sweet potato, avocado, and nuts. (6, 7, 10)
Avoid exposure from extreme heat of the sun – When going out in the sun, make sure you wear protective clothing. Wear long sleeves or use umbrella. You should apply sunscreen and sunblock to somehow have a barrier between your skin and the rays of the sun. Exposing your skin to the heat of the sun can make it even dryer. It could lead to the development of other skin problems. (4, 5, 7)
When you should see your skin doctor?
Simple home remedies can help improve the skin patches on the face, although it will not get rid of the patches overnight. However, you should be wary on some skin conditions, especially if it does not improve despite home remedies. You should see your doctor if you are experiencing these symptoms:
Hair loss on the affected skin
The skin has blisters (bleeding blisters)
Thickened layers of the skin
Discoloration and pain (1, 4, 5)
References:
naturalremedyideas.com
www.medguidance.com
https://medicorx.com
www.prevention.com
www.wikihow.com
www.medhelp.org
www.everydayhealth.com
www.healthline.com
stylecaster.com
www.webmd.boots.com
Published on by admin under Skin and Hair.
Article was last reviewed on October 9th, 2017.